Welcome to AG Reno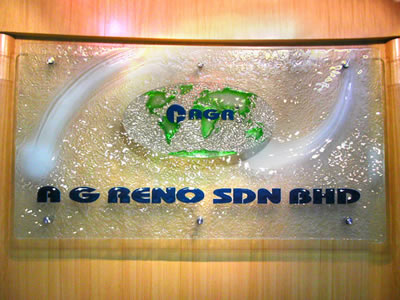 AG Reno Sdn. Bhd. is a professional manufacturer in Malaysia specializing in textured glass, scientifically known as Kiln Formed Glass. We have continued to grow and position ourselves successfully as a versatile and innovative company in the region.

Besides customized our textured glass to individual requirement, AG Reno Sdn. Bhd. has a variety of standard products such as curve glass, laminated fabric safety glass, layer glass, tempered glass, art piece, premium glassware and textured laminated fabric safety glass.
Our products may be incorporated into wide variety of areas such as balustrate, shower screen, divider, art peices, featured panel, water feature, door and are capable to be custom-made according to individual need.
| | | |
| --- | --- | --- |
| Assurance | - | We assure all formed glass are of best quality, good design and durability via continual improve QMS effectiveness. |
| Goodwill | - | Friendly, approachable and helpful to customer, as a successor to a well established company reputation. |
| Royalty | - | Strike to meet all customers and applicable statutory requirements aims to achieve customer royalty. |
Awards & Recognition


AGR had received a total of 5 Malaysia Good Design Mark Awards between 2001 to 2005 for various excellent product designs. These awards mark the highest design recognition of the Malaysian Government through the Malaysia Design Council. It endorse products that archieved superior quality in design manufacturing. Apart from that, it encompassed good reputation for an organisation: building consumer trust and assurance - in a long term relationship with the company.
AGR won the Best Booth Design Competition Award in conjunction with the 4th Dex Exhibition in 2003. Our creativity and intrepid character to strive for excellence has spurred us to perform the best - from booth designing to our products. Hence, our designing attitude are up-to-par in every aspect of our business.
We have been participating HomeDec Exhibition for the past 15 years: from the first show until today. With that, AGR was presented a certificate of 15th Year Archievers' Award from the organising committee in 2017. Do visit our booth in the up-coming HomeDec Exhibition.